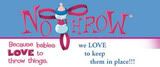 Being the mommy of 2 toddlers i am CONSTANTLY picking up sippy cups (it used to be bottles) in the car, going down the street on walks. I got sooooo tired of picking them up...i thought about not giving cups unless we were somewhere they could pick them up themselves and not lose it. You have to love the throwing phase too....where babies/toddlers throw things just to make you pick them up....i was sooooo tired of picking EVERYTHING up. Then I found
No Throw
...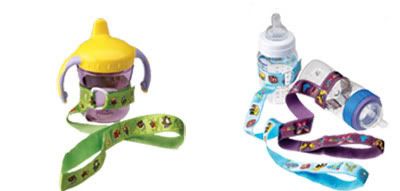 These neat little straps (simple....why didnt I think of this? kind of product lol) fasten to seat belts, stroller straps, highchair straps, carseat straps or even backpack straps when walking to make it easy for kids to pick up themselves! They are also easy to attach! There are 2 ways to do it, depending on where you are putting it.
1) Put strap (of carseat, stroller, highchair, ect) through the leash style handle of the
No Throw
and velcro the strap around the bottle or cup (can do this before straping it)
2) Loop the
No Throw
around where you want to attach it (could be the arm of the highchair, or the highchair strap, this works great for 5point harness things) and loop the velcro end through the leash type handle and pull tight, then velcro the sippy cup/bottle
Now when the kids throw their cup down to the floor of the car...they can pull it up themselves!!! YAY!!! They are also super super cute!!!!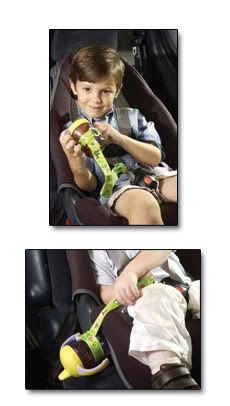 ***Giveaway has ended....Winners Announced!!!!!****
Now...I have 3 extra No Throws sitting here....what to do with them. Do YOU want one? Ok...I'll send these out to 3 lucky winners! All you have to do to enter is post me a comment with your name and email address after you have went to No Throw's site! Simple. Make sure to put your email address...otherwise I cant contact you to get shipping info!

Now get commenting!!!!
Giveaway ends on July 20, 2008!
***Don't Forget to sign up for my feed! Enter your email address to the left to recieve email updates when I make a new post, including giveaways!!!!***