Lately everyone is going for enviromentally friendly products, so I thought I would try one. I found a company called Cultivate Kids. They make onsies and shirts for kids. Cultivate Kids make their shirts out of 100% organic cotton, and they use water-based ink that DOES NOT contain hazardous PVCs or phthalates. Of course they have cute "thought provoking" phrases on them, of course you could have probably already guessed that if you have read my past reviews of products, not many of the kids clothes DONT have phrases on them lol. Check out Jeffery in his Cultivate Kids shirt, and I must say the phrase fits his PERFECT!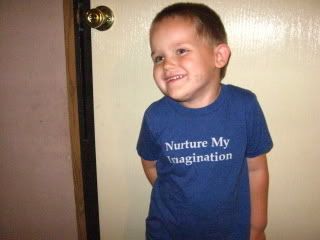 And as you can see in the next pic, his is proud of his shirt!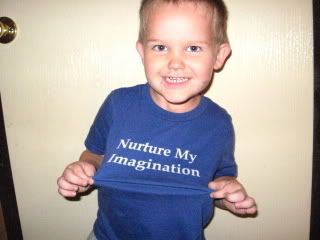 "Nuture My Imagination" and what an imagination this boy has!!

As I read Cultivate Kids site, I come across the "About Us" section and that is where I found the best part of Cultivate Kids, the owner, Tammy, was talking about how she worked as a teacher in a daycare and as a nanny for over 9 years....she said:

"These shirts are created to be worn as a daily reminder that children need the adults in their lives to guide them, and to help them grow to their full potential."

Which is GREAT and very HONEST! I am glad my son now has one, he has worn it to school, as a reminder to his teacher that she is one of the many in his life that needs to nurture him.

As if Cultivate Kids being a organic company, they are a member of 1% For The Planet and a percentage of all sales are donated to Co-Op America!

Cultivate Kids shirts are only $24.99, and with sayings like "Cultivate My Confidence" and "Nuture My Spirit" who could say no? Their sizes go from 3-6months all the way up to 6T!

So check out Cultivate Kids, buy a shirt, make your kids look super cute in their smart phrases and help the environment!!!