It's party time! That's right, in less than a month, Jaxon turns 1! Let's start this party with cake, because everyone loves cake! I love cake, my kids love cake, and Jeff loves cake, so when
Bake Me a Wish
wanted to be included in the 1st Birthday Gift Guide I was all for it!
Bake Me a Wish
sent me,
Kristin
and
Alex
all the Cookies and Cream Cake to review. To my surprise when I got it, it wasn't a cake...no, it was better. It was pretty much a giant brownie!!!! The Cookies and Cream Cake was yummy, chocolate brownie,
OREO® pieces, and my favorite, white chocolate drizzle! Between myself, Jeff and the kids, the cake was gone in about 2 days. Oh, I kind of jumped the gun and went right into the cake itself, nothing about shipping huh? Shipping was awesome, I sent my address on Tuesday and on Wednesday my cake arrived via UPS! Of course I was so excited to eat it, I didn't take my time to take a nice picture of it This picture I took as soon as I opened it.
Oh, how could I forget the "Happy Birthday" (which could also be numerous other greetings such as "Get Well Soon", "Thank You", and others) in the middle. Jeff and I jokingly argued if that was plastic or chocolate...so being the dork I am, I bit it! I was right, it was chocolate. I emailed my contact to let him know I had gotten the cake already, and joked about the chocolate in the middle, he informed me it was imported Belgian chocolate!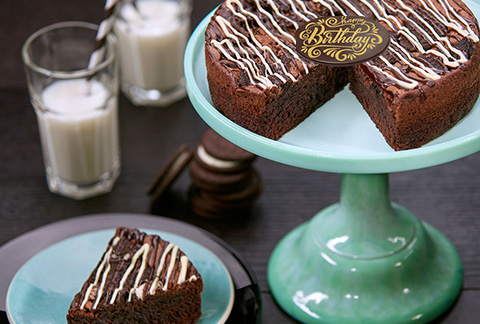 Bake Me a Wish also puts in a card to go with the cake, they put "Happy Birthday Jaxon" in the card for, Jaxon's 1st birthday card was from Bake Me a Wish! The price is a little steep for a cake, $34.99, the cake is about as big around as a Frisbee and about a inch to an inch and a half thick. But I can tell you, it was GOOD! They can also deliver any day you want, you tell them when you want it to arrive! I have to say something else about this cake, and I'm trying to keep from making this a long post, but usually when I put a cake or brownies in the fridge to save for later, the edges get hard and of course I won't eat that, so I cut that part off and it goes to waste, but the Bake Me a Wish Cookies and Cream Cake never got hard! Not a single crumb of that cake went to waste!
Bake Me a Wish makes all kinds of cakes, carrot cake, chocolate cake, red velvet, and many others. Can be for any occasion, or just because you want one!
**Giveaway Has Ended...Winner Announced**
The Giveaway: Usually Jaxon, Brooklin and Ariana would be the only ones receiving gifts for their birthdays, but we want to include our readers in the celebration, so Bake Me a Wish is giving away a Cookies and Cream Cake on each of our blogs!
Open to US Only
Main Entry: Go to Bake Me a Wish, then come back here and comment with another of their cakes you would like to try.Don't forget to leave an email address for me to contact you. For all giveaway rules and extra entries go HERE.
Extra Entries:
Follow me on Twitter
Tweet the Giveaway using @monkey_mayhem (can do daily)
Add my Bloggy Button!!!
Follow me on Google
Sign up for my email feed through Feedburner (must verify email address to be counted)
Blog about this giveaway linking Monkey Mayhem and Bake Me a Wish.



"Like" Monkey Mayhem on Facebook (button on my left sidebar)
Have our 1st Birthday Celebration buttons on your blog (1 entry for each button you have, for a total of 3 extra)
"Like" Bake Me a Wish on Facebook
Enter Kristin and Alex's Bake Me a Wish giveaways (for a total of 2 extra entries)
Please leave a separate comment for EACH extra entry you do, if multiple are in 1 comment it will only count as 1 extra.

Comments with "Count me in" or "I want this" as their entry will be deleted...PLEASE follow the rules if you really want to win the giveaway.
Don't forget to check out Kristin and Alex's blogs for their 1st Birthday Celebration giveaways!
Giveaway ends May 10 @ 11pm EST.
Disclosure: I received free product in return for writing this review. All opinions expressed are my own and not influenced by free stuff.