As many of you may know, I am a mom of 3, a wife , a daughter, a friend. My life is full here in Shenandoah, VA. This is my town, this is where I was raised, this is my father's town. Shenandoah is part of who I am and my respect for this place runs deep. We might be a small town, population 2000, but we are a town with all heart.

Back when Jeffrey was little and I was pregnant with my 2nd child, there wasn't a lot of money for the town to spend on new parks and I wanted a place where people could go and enjoy nature and have a little fun. Big Gem park was being developed into a nice park, but it needed something more, something just for kids. After going to a few Parks & Recreation meetings in town, it was agreed that a swing set would be perfect, my goal was to raise the money for that swing set. So after brainstorming I decided to put together a "Womanless Beauty Pageant". Yup being a mom and pregnant with my 2nd child wasn't nearly as difficult as it was convincing men to dress up and join in the fun.

We were starting out with nothing - $0 I hit the ground running, or in my case waddling… I went in person to most, if not all of the stores in town...the florist donated a bouquet and sash for the 1st place winner, the sign shop donated 3 trophies, plus numerous other gifts from companies around town. We had plenty of prizes for the winners and lots of door prizes for the audience. A good time was in the works for all who participated and attended.



The winners with Shenandoah's mayor, Clinton Lucas

We had 5 men enter, the mayor agreed to emcee the event, we had lined up a few judges and the extra raffle my dad helped me put together really helped us meet our goal. It was amazing to see our dream being realized.


As the event was ready to begin, things got tough, my son Jeffery was with a family friend and he was having none of that. I got a voicemail with nothing but Jeffery screaming in the background. How could I leave? My husband Jeff was in the pageant, as was Dad. There was so much to do and I didn't want to let my son down and I didn't want to let my town down. I managed to hold it together and managed in the end to send a friend of mine after Jeffery. Who says you can't do it all!?


The event? It was a success! We raised the money needed for that swing……….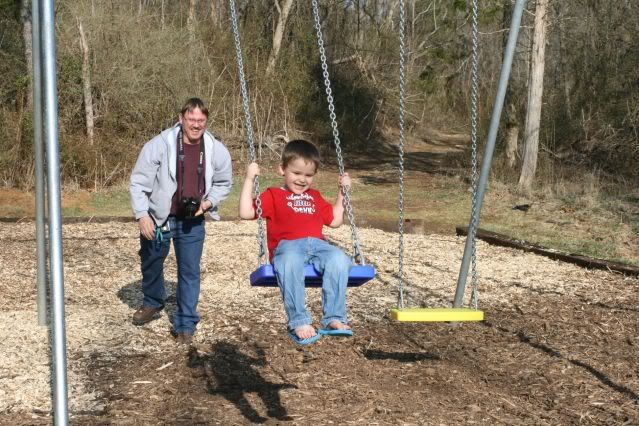 My dad pushing Jeffery on the swing set at Big Gem Park




Volunteering is at the heart of every community. For me, this event it was all about seeing the smiles on the faces of the families and kiddos in our community getting a chance to enjoy a great park.

I wrote this post as an entry into Lovable Labels BlogHer'10 Giveaway