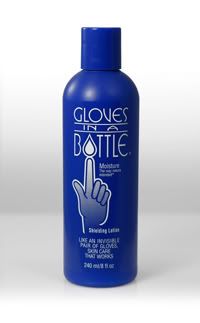 Do you have dry skin? How about cracked skin? Does it seem like you have tried everything? Well, I thought that too. Until I cam across
Gloves in a Bottle
.
Gloves in a Bottle
isn't a normal mosturiser, its a sheilding lotion. What is a sheilding lotion you might ask....a shielding lotion is lotion that keeps the good stuff in and the bad stuff out! It dont put artificial mosturisers in your skin, it helps your skin naturally stay moist. I questioned the name....
Gloves in a Bottle
...what does that mean? Well when you put
Gloves in a Bottle
on your hands/feet/ect its like putting on an invisible pair of gloves...its amazing!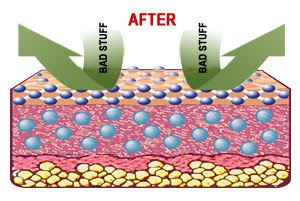 -----

----
Bad Stuff: Good Stuff: Protection:
I was able to recieve a sample of
Gloves in a Bottle
to try for myself. I read the instructions carefully and it said apply a "small" amount, so I put a little in the palm of my hand and started rubbing it in, I was amazed at how far that little bit went. I tend to be obsessed with how things smell, so I had to smell my hands afterwards...and to **me** I thought it didnt smell that great, but I let my mom use it and she couldnt smell anything....so that depends on the person, I even asked Jeff to smell and he couldnt smell anything...maybe I just have a sensitive nose. Everything else about the product was GREAT! It worked just like it said it would. My hands were smoother, and even though I didnt care for the smell, I used it for a few days and my hands stayed smooth, even after doing dishes, or giving the kids a bath. It was truely like I had gloves on! If you want to try Gloves in a Bottle for yourself, head over to
Gloves in a Bottle's
site and a bottle is only $12.95 each!! A bottle will last a LONG time!!!