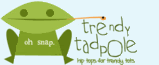 If you see a lot of pics of my kids, you notice they are always in nice clothes, most of the time the clothes have cute little sayings on them. When I came across Trendy Tadpole I fell in love with their products. They had the cutest little sayings and the shirts looked like they were made of good material. So when I got the chance to do a product review of 2 of their shirts I was exstatic! Trendy Tadpole asked me to pick the designs I wanted, so I chose 2 that described my kids the best. I got Jeffery a shirt that says "Mommy's Little Monster" and has a picture of a monster on it....describes him to a tee!!


Don't let his cute grin fool ya, he is definatley a little monster!

For Jaylin, this has a funny story behind it: Being she is a girl, her feelings get hurt a little more easy than a boy, well when anyone tells her "no" she cries...well it got to the point where Jeff started saying she's going to need therapy when she gets older...when I saw "I'm gonna need therapy" on Trendy Tadpole's site, I HAD to get it! They didn't have it in her size so I got it a few sizes too big, she will get plenty of use out of this, right now we are using it as a nightgown. As you can see, its quite long on her, but looks GREAT!


She likes to cheese it up for the camera!

I have to say this review would have been posted sooner, but little miss Jaylin decided to color her pink shirt green with one of Jefferys markers, she got the marker before I was able to get pictures of them. So I was sooooo worried the marker wouldnt come out, but to my surprise, I cant even tell she ever colored on it at all! Trendy Tadpole shirts are light, GREAT for summer, super cute sayings, and are fashionable! What's not to love? I have to say, they have more than just cute sayings, they have cute little designs also. Go check them out!


**Contest Closed, Winner Announced**
Want to win a Trendy Tadpole shirt? Go to the site, and post me a comment on which shirt you would want if you win and your email address and you will be entered into the drawing to win a Trendy Tadpole shirt!!!!

For Extra Entries:
*post on your blog about my giveaway (1 entry)
*post my blog button on your blog (1 entry, dont count if you already have it there...and no you cant delete it then add it back lol)

**Deadline is June 24th 2008**

Good Luck Everyone!!!!

**Remember if you win and you didn't post an email address, then I will have to choose another winner**