Win a My Plate Mate!!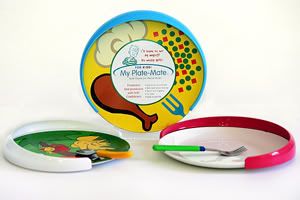 My Plate Mate is a great product for parents of kids learning to self feed. I personally haven't tried this product, but have been given the opportunity to pass it along to my readers!

The Plate Mate attaches easily to any round 8"-9 1/2" plate to assist children in getting their food on their fork. It's a "spill guard" that teaches and fosters indepencence to those who have difficulty feeding themselves.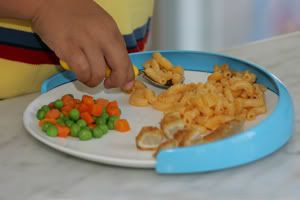 It's dishwasher safe, made of FDA approved food grade plastic. My Plate Mate is also made in the USA and free of lead, BPA, and pthalates. They come in 3 fantastic colors, pink, blue and white!

Here's what others have said about My Plate Mate:

"Finally, a hassle-free meal! My son was able to eat completely independently, which made for a happy family meal time. The Plate-Mate is a terrific solution for eaters of any age!"
--Nikaela – Hawaii

"This is a wonderful teaching tool. I especially liked its versatility and practicality. It fit all of my plates and I was eventually able to have my son use a big boy/adult plate with it."
--Tiffany- California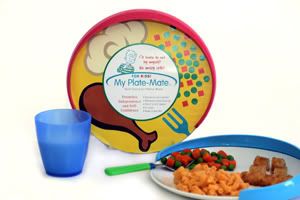 **Contest Ended, Winner Announced**
So, would YOU like to win a My Plate Mate? Here's what you do:
Go to My Plate Mate then comment here on what you love about My Plate Mate

For an added entry:
*Make a post on your blog about this give-away

This Give-a-Way will end on June 11, 2008!

**This is open to anyone!! If you aren't a blogger, leave your email addy in the comment!!**

Good Luck to Everyone!!!

Want 10% off your order of a My Plate Mate? When you order a My Plate Mate online, enter the code MESSFREE at checkout to recieve your discount!