Tired of having to hold your little one's hand while trying to do something else, such as find your keys, load/unload another child into a carseat, or loading up groceries? Parking Pal is the solution!
I recieved Parking Pal this week, I have to say, I was a bit skeptical about it at first. It is a magnet in a circle, with designs around the edges with a hand in the middle....how is THIS going to keep Jeffery standing next to me? Is this thin little magnet going to stay on my car? I have seen decoration magnets for cars before, and they fall right off. But, I wanted to try this, I cleaned my car off a little (kind of pointless when you live on a dirt road) put the Parking Pal on Jaylin's side of the car...it stuck...it was holding good.

Now let me explain to you how my normal routine is when taking both kids out by myself. I first get Jeffery out since he sits behind the drivers seat, I then hold his hand while we walk around to get Jaylin out, I tell him to stand next to me (it takes 2 hands to get a toddler out of a carseat so I cant hold his hand the whole time), I then unbuckle one part of Jaylins seat, notice Jeffery has run somewhere, then yell for him to come back, he comes back and I tell him AGAIN, to stand next to me....I then finish getting Jaylin out of her seat and Jeffery is on the other side of the car again! So I am then able to take Jaylin with me and go grab his hand and go where we are going. Big mess doing it this way, and I am tired before we even get to the store. The same thing happens when I am loading the kids up, I tell Jeffery to either stand next to me or go get in his side (i'll open his door for him 1st) well, he is a normal 3yr old who likes to run around, so he NEVER listens. Again, a big pain to deal with.

Ok, here is what happened yesterday using the Parking Pal. Before we left the house I showed Jeffery "his spot" and told him he needs to put his hand there when we are out of the car so I can see him. He puts his hand there to show me he knows what im talking about. So we leave to go to play group. I get him out and tell him "Jeffery, go to your spot over on Jaylins side" and he runs with me over to Jaylins side and I did have to tell him again to put his hand on the spot once or twice, but it was his 1st time doing it. So I was able to get Jaylin out of the car quicker because I didn't have to constantly look for him. So, coming out of playgroup, I told him to go to his spot and he went right there and put his hand there. I was able to put Jaylin in easy, then take him over and put him in. Fast forward to that evening. We took my mom somewhere and I wanted to show her what he had learned, so again, I got him out (this time we were on the side of a street instead of a parking lot, BIG DANGER) and I told him to go over and show Grammy how he uses "his spot" and he ran around the back of the car and put his hand right on there....of course he got applause from both me and Grammy so he was all happy. He caught on quicker than I orginally thought.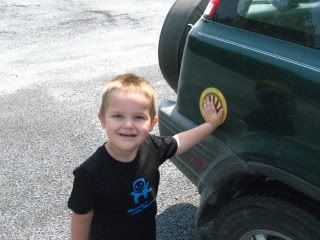 Check out Jeffery using his Dino Parking Pal!

So, safety is a BIG concern of mine, especially when I like to go places with the kids a lot. And looks is a BIG concern of my husband's....and you know what....even my husband likes it! It actually matches the car sort of (green vehicle, green circle lol) They have many more designs, and its got that cute little hand in the middle that children's hand fit right on!!! The cute designs keep children interested (Jeffery likes to count the dinosaurs!)

I have to say, DO NOT LEAVE YOUR CHID UNATTENDED WHILE USING PARKING PAL!


**Contest Ended, Winner Announced**
Want to win a Parking Pal? I have a Solar System Parking Pal I am giving away!!!

Go to Parking Pal's site and come back and tell me one of the Safety Tips or Stats in a comment!

**PLEASE LEAVE AN EMAIL ADDRESS FOR ME TO CONTACT YOU IF YOU WIN!**

For added entries: (1 each)
*Post my blog button on your blog, then leave me a comment with the link
*Post about this giveaway on your blog, then leave me a comment with the link

**Giveaway ends June 18th!**