Its hot! Definatly tell its summer! What are you doing to protect your kids from the sun? Sunscreen? If so great! But, for me sunscreen is a PAIN to put in a young toddler/baby. Yes I make sure I put it on, but with a squirmy child you may not get great coverage, and your child (i know mine have) get little spots of sunburn. Well, I have had the GREAT opportunity to try Sun Protection Zone products!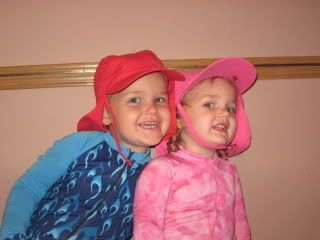 Here is Jeffery and Jaylin in their Sun Protection Zone long sleeve suits and hats!!! super cute!

My kids were sent the whole package, each got a long sleeve suit, and a hat, Jeffery got a rash guard shirt (same material as the suits) along with these neat little armbands called Solar Safe (i will explain everything in a mintue) along with a can of Sea and Ski sunscreen.

Sun Protection Zone products protect agains SPF AND UPF....whats the difference you might ask? The answer is:
-SPF - SPF is the ratio of time required to produce minimal erythema (redness) when a sunscreen products has been applied compared to the time required to produce the same amount of erythema without the sunscreen. This means, if skin reddening takes 20 minutes with a person who is using no protection, theoretically, the use of a sunscreen with an SPF of 15 would prevent reddening 15 times longer (about 5 hours).
-UPF - Australian researchers introduced the term Ultraviolet Protection Factor (UPF) in 1996. It defines the amount of Ultraviolet light (UVL) that penetrates a fabric. UPF is a ranking of fabrics according to how much UVL penetration occurs based on standardized criteria. For example, a UPF rating of 30 would indicate that 1/30 of the UVL hitting the fabric acturally penetrates it. Therefore, fabric with tighter weaves and thicker fibers will have a higher UPF.

My kids love wearing their suits! Jaylins has snaps for ease of changing diapers!!! How cool!! (1T & 2T only) I wasnt able to see how Jaylins does in the water since she apparently HATES the sprinkler, but its the same thing as Jefferys suit....and he LOVED the sprinkler! He was playing in it, I didnt have to worry about sunscreen on his arms or body since he was fully covered! The suit was great, when he walked in the door I didnt have to worry about dripping clothes, the suit made the water run off him like water off a ducks back! We even went for a walk later and he wanted to wear his suit, so I let him and I put Jaylins on hers and it looked soooooo comfy!!! I also put their hats on. They looked adorable!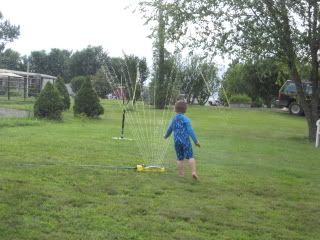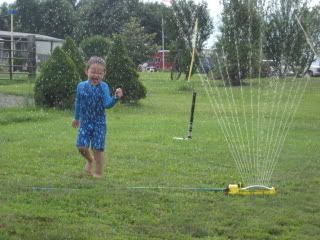 Jeffery Playing in the sprinkler!


Jaylin after I ran with her through the sprinkler....you can tell she didnt like it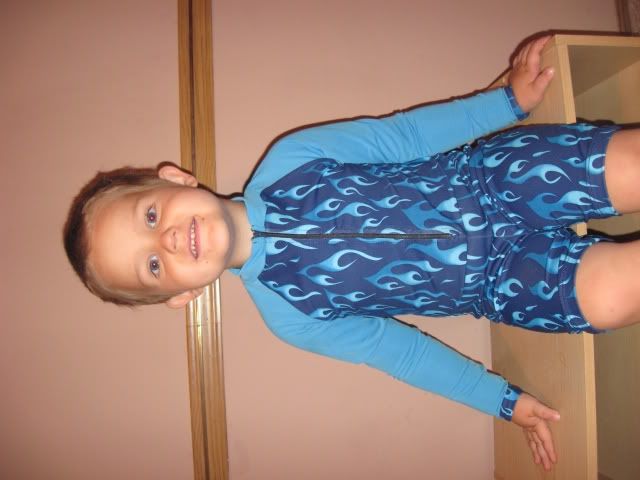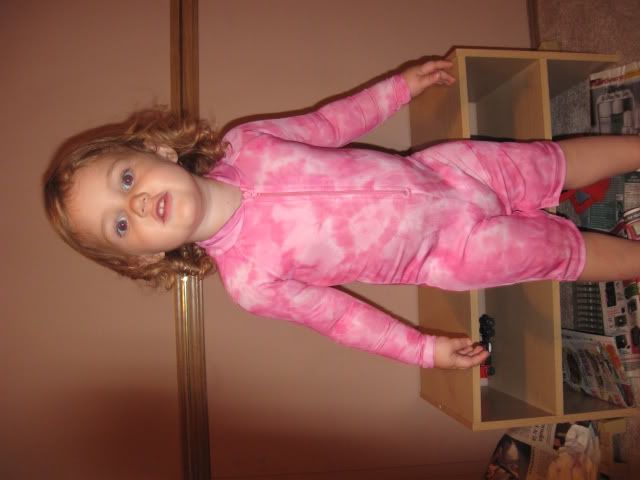 Dont they look adorable???


This is Jeffery wearing his Rash Guard shirt (same material as the suits) He likes to wear it as a regular shirt around town. One day he was wearing it along with his hat and we went to the store, EVERYONE thought he was the cutest thing!!!

Sun Protection Zone has the CUTEST designs for their shirts and suits!!!

Ok, now I must tell you about the Solar Safe, these things are the coolest! They are arm bands. you apply sunscreen to the bands when you apply it to yourself/kids when the band turns purple when exposed to sunlight, it turns brown when its time to reapply sunscreen and it turns a lighter brown/tan when its time to get out of the sun!!! How neat is that??!?!??

The last think we recieved was sunscreen, its called Sea & Ski. Its a FOAM!!! Neat!! (im easily amused apparenlty accoring to Jeff lol) it is spf 30 which is great for adults (i recomend spf 50+ for babies/children) This way, the adults can be protected also!!!

**Contest Has Ended....Winner Announced**
Sun Protection Zone is giving my readers a GREAT chance to win a package deal!!! It includes:
-Suit/shirt of your choice
-hat
-Solar Safe
-Sea & Ski

To enter, post a comment with your email address, along with WHY you want to win this Sun Protection Zone package, and which suit/shirt you would like to win.

The deadline is July 11, 2008! Good luck everyone!!!!