I have found a company who is sooooo in tune with a parent and/or childs needs. Their products are awesome, useful and colorful! Boon Inc recently sent me a package of products for my kids to try out. I must say, I was impressed from the moment I opened the box. The kids got Bath Goods (included wall stick-ons, 2 mini-scrubbies, and a few balls), Flo, Jaylin got a plate called Groovy, and a fork and spoon called Benders.

Let me start off with the bath stuff the kids got, since bathtime seems to be their favorite time now (thanks to Boon Inc) I first put the Flo on, hoping that Jeffery would lean back and let me rinse his hair and it would be easier, that didnt work. At first the kid were scared of it, of course, its different (I have to add that our water pressure is HIGHER than a normal house, so this made the water spash a LOT further) After a little while they liked it and played with it while the tub was filling up. Next, Bath Goods, I have to say the tub walls have never looked better! Bath Goods includes 15 designer bath appliqués, 3 balls, and 2 mini-scrubbies. My kids absolutely love the bath appliques, I have to fight them to get them out of the tub now!! They like to stick them up and then tear them down to make them splash in the tub!
This is Jaylin playing with the appliques. Aren't they the cutest, brightest?!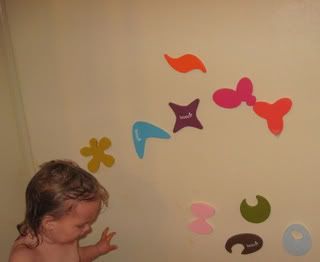 Jeffery sticking them on the wall (they stick easy, just get them a little wet!)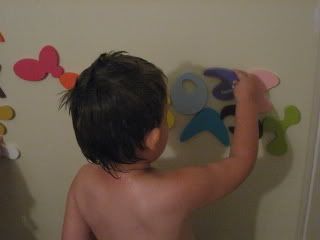 Both my kiddos playing together, if you look close, you can see both of the mini scrubbies between them (they are purple and light blue) Also you can tell they JUST got in the tub, Jaylins face is still cheesy from the macaroni and cheese she had for supper!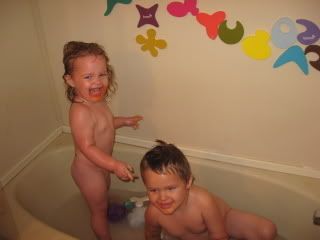 Ok, now for the feeding. Jaylin is still learning to use a spoon and fork, so Benders were PERFECT for her, I could bend the end of them anyway I knew she might tilt her fork/spoon, and it made it easier for her to get into her mouth, and they are small and she dont have to open WIDE to get it in like some other forks/spoons.They are BpA free, Phthalate free, and PVC free!The plate/bowl called Goovy is GREAT! It has a rubber lining on the bottom to keep it from sliding all over the place which is perfect for kids learning to self feed. It comes as a plate attached to a bowl and with 2 little bowls perfect for dipping sauces. They are also BpA free, Phthalate free, and PVC free!

I am soooo happy, when we have our next baby I WILL be going to Boon Inc for things for the baby! They have a highchair named Flair, a baby food spoon called Squirt, a cute toddler cup called Fluid and a lot more cute stuff for babies and toddlers and kids!!!

**Contest Has Ended.....Winner Announced**
Ok, Boon Inc wants to give a Bath Goods to one lucky reader of mine! Is it going to be YOU!?

~*~ To enter this giveaway go to Boon Inc's site and browse around, come back and tell me your favorite product of theirs and why.~*~

~For Extra Entries:
**Sign up for my feed (also open to readers already subscribed, also make sure you verify)
**Add my button to your blog (if you already have it, let me know)
**Blog about this giveaway (post link)

***MAKE SURE YOU LEAVE A SEPARATE COMMENT FOR EACH EXTRA ENTRY!***

Giveaway will end on August 20, 208 @ 11pm EST