I remember when I was little I remember my Nanny licking her finger or thumb and rubbing my mouth or face to get it clean...talk about embarassing. I always told myself I would NOT do that to my kids....guess what....I have done it!!! Well just recently that has come to an end because I found a product that makes that embarassing act unnessasary....MomSpit!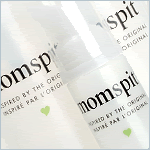 MomSpit is a no rinse cleaner. Perfect for when you aren't near running water to clean up small messes on yourself or children. MomSpit comes in 2 sizes, 2oz and 7oz. The 2oz bottles are small enough to fit in your purse, diaper bag or glove box of your car (I keep one in the diaper bag at ALL times!). The 7oz are perfect to keep in the playroom for quick cleanup of small messes, or itchen counter/cabinet for a quick cleanup that dont require running water.
MomSpit comes in 3 choices, unscented, fig & green tea, and lemon & white tea. The unscented is just that, no scent at all, you know how most cleaners have sort of a alcohol smell, or something, well MomSpit unscented is UNSCENTED, really! The fig & green tea has a slight smell, you can tell it has a scent, but its not overwhelming, which is GREAT. Me, I'm partial to the lemon & white tea, but I just really like the smell of lemons....again, the scent isnt overwhelming, you can just tell it has a scent.
Now, using MomSpit....just pump a little onto your fingers (just as if you would lick your finger/thumb to clean a messy face lol), it comes out as a nice little foam, rub it on the mess (chocolate face, muddy hands, or that little dirt on their arm or leg that you just dont want to know WHAT it is!!!), the dirt magically dissapears (if it dont, repeat if nessesary)
I love having my bottle of MomSpit while we are out, if the kids have some sort of candy in the car, it ends up alllll over their hands and face and just a small amount of MomSpit cleans it right up!
Now, would you like to try MomSpit? The makers of MomSpit asked me to hold a giveaway for a SpitKit, which includes 1, 2oz bottle each of unscented, fig & green tea, and lemon & white tea! (seen below)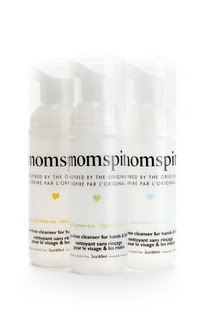 To enter this giveaway, go to MomSpit and browse around, come back here and leave me a comment on what your favorite fact/thing about MomSpit is. Dont forget to leave your email so I can contact you if you win!
Extra Entries:
*Post about this giveaway on your blog (post link in separate comment)
*Post my button on my blog (leave a separate comment with link to your blog, I will also add your blog button to my blogroll) If you already have it let me know, if I still dont have yours on my blogroll (scrolling on the right) let me know, ill put it up there!
*Sign up for my feed on the left (post comment with email you used) make sure you verify or it dont count!
Giveaway will end on August 30th @ 11pm EST! Good Luck!