School has arrived (at least around here it has). Now what to do about things you think your child will lose, backpacks, binders, lunchbox, shoes, extra clothes, and much much more!! How about labeling all that stuff! I know you're thinking to label shoes and clothes are difficult to label....well thanks to Lovable Labels they arent anymore!!! Lovable Labels makes labels/stickers for everything you can imagine!!!

I just recently got Lovable Labels Press n' Stick Clothing DOTS....NO IRON REQUIRED (good because I dont own and iron, i dont use them lol) Press n' Stick Clothing DOTS are so easy to apply, just peel the size you need (they come in 3 sizes on the sheet) and stick it to the care label (NOT the fabric itself), make sure there are no air bubbles by pressing down firmly. You can also put them on the lining of some clothing items, windbreakers, jackets, ect (the silky material on the inside) Check out what they look like applied to a care tag...thats where I put one of Jaylins.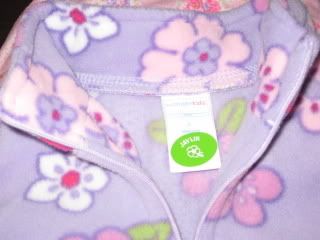 I used the medium size for this tag. Here is a picture of the different sizes on the sheet, you can see the medium on the tag and the large one on the top of the sheet, and the 2 small ones under the empty space.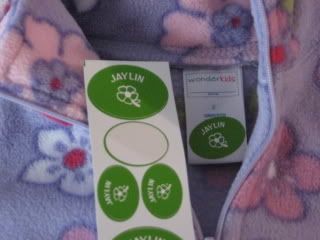 These labels are machine washable (even in bleach) and dryer safe! There are many different colors to choose from, and different little icons (you can see the flower on Jaylin's).
Lovable Labels
makes labels for EVERYTHING. Sticker Labels (regular or slimline), Fun Stickers (in different shapes), Shoe Labels, Iron-On Labels, Sweet Notes (personalized note cards), Bag Tags, Mini-Metal Tags. You can also get a Combo Pack, a combination of all of the above for school or summer camp. Now something better than just labels, Lovable Labels makes ID Wristbands (Vital and Medical) these are made of fabric, and have a secret little pocket to keep very important information in, incase your little one gets separated from you!
Lovable Labels
wants to give something back to my readers....so go to
Lovable Labels
and purchase something (either online or by phone), when you mention that you heard of them through Jackie's Thoughts, they will give you 15 FREE sticker labels!!!!