Litte Miss Jaylin sat on her
Tuffet
Eating her Cheerios and poptarts
Along came her brother
And sat down beside her
And scared litte Miss Jaylin away

Ok, so im not good at rhyming, but cute huh? Whats even cuter is the real Tuffet Jaylin has! What is a Tuffet?? A Tuffet is this adorable "cushion" designed at first by a mom for her baby. She was tired of putting pillows around her baby who was learning to sit up (I can sooooo relate!!!) Now, as you know Jaylin is far from a baby, but older children can use it also. Jeffery has a Cars couch that is "HIS" and he wouldnt let Jaylin sit on it, well we were thinking of getting Jaylin a Princess couch when I come across the Tuffet. Now Jaylin has her seat and Jeffery has his!!! Check out how cute Jaylin looks sitting on her Tuffet!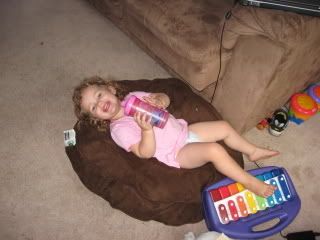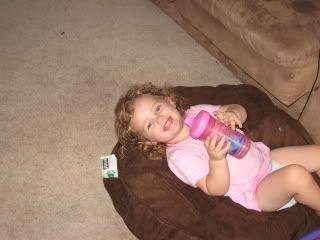 She loves the Tuffet!!! Ok, let me tell you exactly what a Tuffet is, its sort of like a "bean bag" chair, but its flat, it has 2 handles on it for easy carry (Jaylin loves that!) and it has 2 pockets on the top for storing toys (or diapers if using for a baby) The great thing about the Tuffet, is that its flat, so when we get more I can just stack them in the corner at the end of the day!! Now you are probably thinking "well that has to be hard to clean" nope...not at all, actually as soon as I got it out of the box Jaylin come over with a drink and spilled it on the Tuffet (we have the microsued type, they come in microsuede, denim, corduroy and twill)...I quickly grabbed a wet papertowel and wiped it up, come right up! Now you can never tell anything was ever spilled on it (even now, when Jaylin uses it on a daily basis and spills on it constantly). They also come in 2 sizes, small 30" and large 36", both are 5" thick. We have the 30" and its perfect!!! If you think you need more filling, you can purchase a 24" bean pack ($36)
Another great thing is there are sooooo many different fabric choices, you can coordinate with your furniture! And if later on you change it, you can always buy a new cover for your Tuffet!!!
Ok, the Tuffet isnt just for babies/kids....TRUST ME! One night I was sitting here on the computer (on the couch) and Jeff comes and sits infront of me to play the Wii...well when I got up I noticed he had moved the Tuffet there and was using it!! So all you wives of gamers, this is great for them too!!!!
Ok...MadeByAMom (the company that makes the Tuffet) wants to give one of my lucky readers a $50 Gift Certificate towards a Tuffet, all you will have to do is pay the difference and shipping (Tuffets start at $69.00)
To enter, go to MadeByAMoms site and then come back here and tell me which color choice you like best for the Tuffet. Dont forget to leave your email address so I can contact you if you win!
~~Extra Entries~~
*Sign up for my feed (put your email in the box on the left side of my blog, dont forget to verify!)
*Post about this giveaway on your blog (leave me the link in a separate comment)
*Post my button on your blog (if you have it already, let me know)
*For non bloggers and bloggers alike....send an email to 5 of your friends (put my email as the 6th jackiesthoughts (at) rocketmail (dot) com)
Giveaway will end on August 29th @ 11pm EST!! GOOD LUCK EVERYONE!!!!