I have found the cutest, useful toy out there! ZipBins!!! ZipBins are containers that are also toys! You may ask how? They zip up, when unzipped they fold out flat for playtime! Jeffery just recently recieved the ZipBin Softie Racer, when all zipped up it looks like a race car, and its a backpack (which he LOVES to carry it aaround with him).



Side View of ZipBin on Jefferys back


Looking straight at the ZipBin

He keeps his cars (and trains, and airplanes, ect lol) in his ZipBin, then when he's ready to play with it he unzips it and it folds out into a little roadway! I couldnt get a good picture of him playing with it, he COVERS it in cars, trains and everything and anything with wheels lol. This is probably one of his favorite toys now, he takes it with him in the car, he unzips it on the seat beside him and plays and is quiet and all happy the trip (GREAT for mommy and daddy too lol). He took it overnight with him to Grandmas too, that way he had his cars and a place to play with them!!!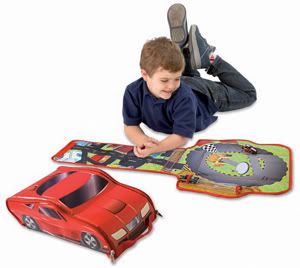 Here is a picture off of ZipBins site, you can see what the ZipBin looks like unzipped.

ZipBins arent just for boys with cars, they have a lot of other ZipBin designs, Country Stable for your horse lover, Fairy Castle, plus many many more!! This would make a great gift also! ZipBin minis are only $9.99, and ZipBins start at $19.99, a GREAT price when you think you are getting a storage AND a toy!
So visit
ZipBin
and check them out, let me know if you decide to get one, tell me all about how your kids like it!