Not too long ago most of you probably remember the Bumkins review/giveaway I did....I was so happy with their product and give a bib of theirs away. I just recently recieved an email from Bumkins announcing a new promotion for the month of October, for those of you who don't know, October is Breast Cancer Awareness Month. My family has been affected by this, my maternal grandmother had breast cancer early in life...so the fear is always there for me. I am so excited to see Bumkins promoting Breast Cancer Awareness through the end of October.

To support Breast Cancer Awareness, Bumkins is placing its popular Grande Diaper Bag on sale and including 5 Breast Cancer Awareness ribbons with each bag purchase!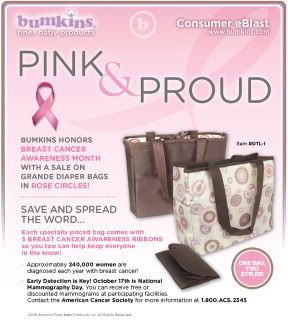 This diaper bag is real cute....comes in pink circles and blue circles...so whether you are having a little boy or girl, it will fit in perfectly! It is also reversable! Functional and for a good cause!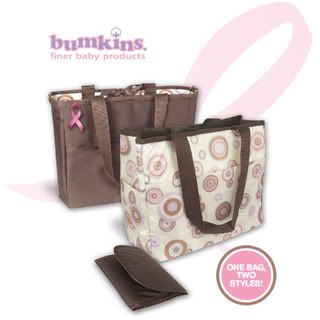 "We are trying to foster a greater understanding of the scope of breast cancer.
As a woman and mother of three daughters, I feel it is extremely important to be
aware that this form of cancer's incidence is continually increasing. I am
grateful to have the opportunity to offer this small promotion to help keep
women's health issues in the forefront of people's minds." stated Jakki Liberman, President and Founder of Bumkins Finer Products.
So all of October...remember those women who fight breast cancer, aprox 240,000 women each and every year!! Let's support Breast Cancer Awareness and hunt for the cure!