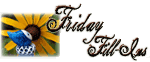 1. I enjoy sleep.
2. Money is something I wonder about often lately.
3. In your heart, you knew nothing.
4. Take steak, add a little montreal seasoning and you end up with good food.
5. Life has gifted me with 2 beautiful kids.
6. Walmart is an instant vacation.
7. And as for the weekend, tonight I'm looking forward to quiet time, tomorrow my plans include volunteering and Sunday, I want to relax!