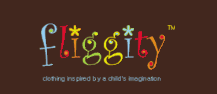 I got a shirt in the mail last month (yes i know, has taken me long enough and im SORRY!! Really I am) and I am sooooooo thrilled about doing this review! This Fall/Winter, this particular shirt will get PLENTY of wear!!! Wanna know what shirt it is? Ok, if you read the title you know lol...Fliggity. Fliggity makes clothes "imspired by a childs imagination" Jaylin got the shirt that Fliggity Fly. It is a shirt with "wings" under the arms. Jaylin has the green dragonfly one....you can see the slideshow below (had to do a slideshow because i took so many i couldnt choose just one or 2 to post lol)
The material is 100% cotton, so you know its durable! And the line behind the dragonfly on her shirt is a ribbon that is sewn on...which is a perfect cute touch to the shirt! The design (dragonfly and letters) arent iron on, or anything cheap like that, they are actually embroidered!!! So you know these wont fade, or peel off!!
Fliggity has more than just Fliggity Fly, they also do How Old Am I, which are shirts with numbers with your childs age! So no more questions "oh how old is she/he?", they can just look on the shirt!!! Plus, what child dont want to brag about how old they are?
Fliggity also makes Stylish Superheros, which are shirts with capes sewn on, the shirts have custom initials on them too!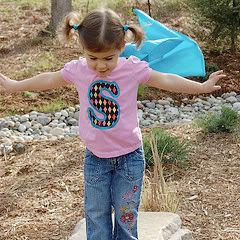 Last but not least, Fliggity also does Tiggity Tie Dye, these cute retro shirts are perfect for your little hippy! They come in different colors and come with custom phrase or name on them!!! They have shirts and onsies in the Tiggity Tie Dye!
Now, Fliggity wants to give something to my readers...and that something is 15% off your purchase!!! All you have to do is enter the code fliggity15 when you checkout to get your discount! This code is only good through the end of September...so get shopping!!!!