OK, I will be the 1st to tell anyone that I don't normally wear "nice" things. The last time I wore a dress was my wedding day....back in 2005!!!! But when I come across Shabby Apple and I saw how cute their dresses were I had to try one! I got the Polo dress, which is super cute!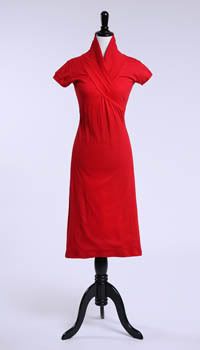 The 1st thing I noticed when I got the dress was the material, it was super thick, which meant I would be able to wear it when it was chilly out and not have to worry about the wind going right through it. I put it on and Jeff saw me and was like "wow!" he is not used to me wearing dresses. I think I look fat in EVERYTHING, of course cuz I AM fat, but I didn't look too bad in this dress (no I'm not going to post any pics of me in it...I'm too embarrassed of how fat I really am)

Shabby Apple's goal was to make a simple, non complicated dress....what dresses USED to be...no flashy jewels, nothing over the top, just a 1 piece dress....and that is exactly what they have done. All of their dresses are simple, and just that....a 1 piece dress, yet they are super cute and fashionable!

You really need to check out Shabby Apples site and see all of their other beautiful dresses! They now have a section called "Fit to Flatter" where you answer simple questions about your body, and they suggest the best dress to flatter your body type!