Last night I had my 5year high school reunion, as I was getting ready to put on my makeup I was having a problem with my hair getting in my face and getting makeup all over my hair was inevitable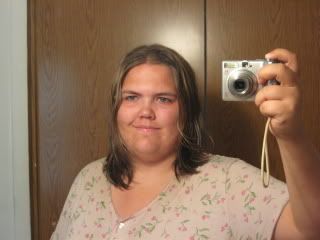 ....until I grabbed my Tassi!
Problem solved!! I was able to put on my makeup and not have to keep pushing my hair behind my ears!
Tassi isnt just for when you are putting on makeup, when you are washing your face, using a facial mask (I LOVE the Tassi when putting on my facial mask, my hair used to get in it and get stuck and i would have to take a shower to wash my hair AGAIN to get the mask out of my hair)
Tassi is made out of a terry cloth material, which means its lightweight. I use mine when I get out of the shower after I dry my hair as much as I can with a towel, to keep my wet hair off my shirt. It also wont mess your hair up if you have already done your hair.
The Tassi is easy to put on, just slip it over your head and around your neck, then slide the smaller side over your face and onto the top of your head, then just put your hair in the back section and voila, no more hair in your face!
You can see how neatly the Tassi has my hair up. I use my Tassi everynight, sometimes multiple times a day, depending on what im doing...my hair is different lengths so its hard to keep out of my face, I use the Tassi when im cooking, just so its out of the way....Im using it right now to keep it out of my face while im typing this.
You see that the Tassi I have is pink...but Tassi comes in 12 great colors! They are only $14.99, and if you buy 2 or more you get FREE shipping!!!
***Giveaway Has Ended....Winner Announced***
Now...would you like to win a Tassi of your own? I have an extra pink Tassi sitting here, ready to be given away!!! To enter, go to Tassi's site and check them out, then come back here and leave me a comment with your favorite color Tassi! Dont forget to include your email address so I can contact you...I dont know how many times I have choosen a winner and couldnt contact them and had to choose someone else!
As always with my giveaways, you can get extra entries by....
~Signing up for my Feed (also if you are already signed up, just let me know)
~Post about this giveaway on your blog
~Post my button on your blog (let me know if it is already there! Also, if your button isnt on my blogroll, let me know ill put it there!)
**Remember to leave a separtate comment for each extra entry!**
****Giveaway will run until September 18, 2008 (changed due to my lack of blogging due to redoing the blog)@ 11pm EST****