Yep, I'm sitting in our van right now typing this. We're down in Norfolk, VA visiting Jeff's parents and my sister who lives about a half hour from here, we'll be going there on our way home. Been an ok trip so far, we left Friday, and plan on going home this evening sometime.

The trip down took us about 4hours. We kept having to stop (thank you baby jumping on my bladder!) Plus hungry kids, thirsty kids and stretching legs. We finally got to the area and was going to go to his parents house first but there was an accident in the tunnel (Google "Hampton Roads Bridge Tunnel") so we decided to go to my sisters house first, and good thing too, Jaylin got sick right before my sister's turnoff!!! We think it was the Dairy Queen we had on our way down, the ice cream didn't taste the greatest. So Jaylin fell asleep almost immediately when I put her on my lap, then I was able to lay her down and she actually stayed asleep!!! So Jeff took Jeffery to his parents' while I kept Jaylin at my sisters. My neice is getting SOOOO big!!!!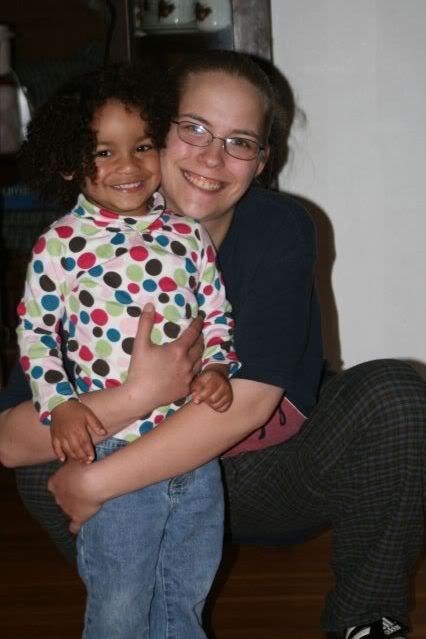 This is my sister Heidi and my neice Nylah (Nylah is 1 month and 4days younger than Jaylin)

Anyways Jaylin got sick in her sleep, ended up needing a bath, and then she was FINE!!! She started playing with Nylah and running around and even at almost a whole personal pan pizza!!! I ordered buffalo wings but the idiots couldn't put the correct number of ranch in my order!!! ugh!! That night was rough, Jeff got back around midnight, and it took forever to get Jeffery to settle down to sleep, I had to leave my laptop on and put the Cars movie in! Then it took me a short time to get Jaylin to sleep, she pretty much cried herself to sleep (didnt take longer than 15min lol) All together we got MAYBE 4-5hours of sleep (the kids decided to get up around 7am!!!)

The next morning we went to the beach (Buckroe Beach, in Hampton) The kids had a blast. I'll make a slideshow of all those pictures and post when I get home. Then we went to Jeff's parents....that was all boring. I thought we were going to go home because the night before had been so rough and there was no way I could do that again. But then Jeff's mom started crying because we orginally said we would stay until Sunday. So I got on Priceline and started searching and then I decided to goof off and "Name Your Own Price" on a 3star hotel, I put a price of $45 in (hotels around here are $100+ a night) But it come back that the Hilton accepted the offer!!! I freaked out!!! With taxes and fees, it was just under $60 for the night...still a LOT better than $100+ (I went back and checked their regular rate on Priceline and it was $99 a night!!!) So that was GREAT! The room was AWESOME!!!! I felt so rich in there, we were on the top floor (6th). Our problem was there was a party that night, and when Jeff come back from his parents he couldn't find a single parking space! THEN when we were finally able to get the kids settled and laying down, the party people started going to their rooms and were really loud, so everytime Jaylin would doze off, she would be woken up by loud people!!! She didn't finally get to SLEEP until 2:30am!!! When I finally fell asleep around 3am I was still hearing people!!! They really should have put all the party people on one floor!!! That was rediculous, and they should have designated parking for hotel guests. Other than those 2 things, it was a pretty good night, the beds were comfortable, the view was nice from the room, I had internet, and cable tv. Jeff took the kids to his parents for awhile so I had the whole room to myself for awhile!!!

Anyway, its Sunday, if it don't rain we will be going to the VA Zoo, I soooo want to go so Jeffery can see all the animals!!! ANDDDDD I just checked the weather, NO RAIN!!!! The sun is even coming out a little!!! Looks like we'll be going!!! I'll be sure to take plenty of pictures!!!

When I get back home I think I have another review/giveaway to post!! I'll have 2 going at once before the babyshower event next week! I have a HUGE lineup for that week!!! I'm excited! I'm sure you all will be too!!!

We'll I'm off to relax a bit. Hope everyone is having a good weekend!!!