I got home today!! Yay! I think my dr didn't want another call at midnight from a nurse telling her I'm crying and can't sleep cuz I miss my kids and husband and just want to go home. (yea, thats what happened last night lol)

Thank you Ryann for posting his first picture for me! Now, for your enjoyment....MORE Jaxon pictures!!!!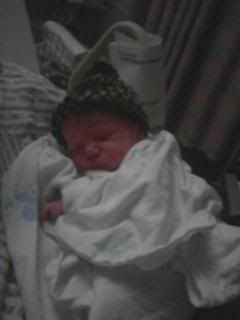 There are volunteers that knit hats, and they put a camo one on Jaxon...he matched his big brother who happened to be wearing camo that day!


Jaxon in his coming home outfit! It's a Newborn size and its still a bit big on him!!!

PROUD big brother Jeffery...he loves Jaxon to death!!!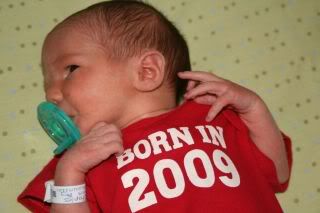 Mr Jaxon himself!

Look at how long my boy is!!
We're having some issues with breastfeeding, but working on it! He now weighs 6lbs 10oz, so he lost a little, which is completely normal.
Now, I'm off to relax with my newborn for a bit while Jeff entertains Jeffery and Jaylin naps.