For Christmas, one of the big gifts Santa brought the kids was a dual screen portable DVD player. We like to travel, and since I am on the area Head Start committee I have to travel to other counties for meetings every month, and it's hit and miss if Jeff is off which means I sometimes have to take the kids with me. The DVD player is a life saver for those trips, which can be up to an hour each way!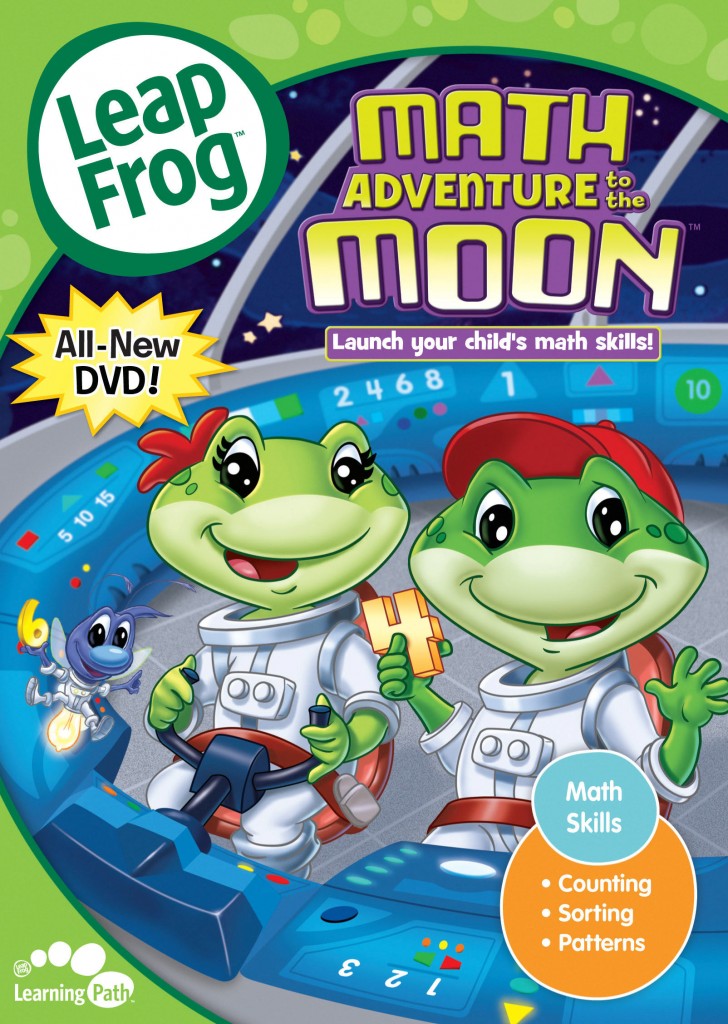 I had gotten Leap Frog's newest DVD
Math Adventure to the Moon
the day I had a meeting about 45min away and had to take the kids...can you say perfect timing? On the way to the meeting I happened to look in my rear view mirror and Jaylin was just so amazed with it. It has a lot of singing, and she loves music. Not only do they count "1, 2, 3, 4..." they go by 2's 5's and 10's! It's cute, and Jaylin now refers to the movie as the "frog movie" and it's her favorite movie, even after my mom bought her The Princess and the Frog. I love that she loves this movie, it's educational and it stays in the van for our trips. Even short trips she wants to watch that movie. Not only does it teach counting, it teaches adding. One part of it, they need 10 of something (forgive me, I've only heard this movie a ton of times, but can't remember some of it) and they counted they only had 7, so they figured out they needed 3 more, 7 plus 3 equals 10! Overall, my favorite part is the counting, they pretty much sing it, they count by 1's up to 10, then by 2's up to 20, by 5's up to 50 and then by 10's up to 100 and they do that a couple of times. I have heard Jaylin trying to sing with it and it's just so cute!
"Join Tad & Lily as they blast off on an exciting educational adventure! Tad and Lily need the perfect collection of things to take to school for their math assignment. When they finally decide on moon rocks, there's just one problem—how will they get them? With some magical help from their firefly friend, Edison, they board a rocket ship to start their quest. Soon the twins learn that math is everywhere, even in outer space! Watch as they use their skills in counting, sorting, skip counting and recognizing patterns to overcome obstacles, find new friends and make the trip back to Earth!" - Leap Frog DVD website
It's adorable and a big hit for us! For only $11.98 Leap Frog Math Adventure to the Moon would make a great addition to any collection!
Disclosure: I was sent a DVD to review at no cost to me. The content of this post is my honest opinion and the free product had no influence.